Ongoing Fund Raisers:
TURN YOUR EVERYDAY PURCHASES INTO VALUABLE EDUCATIONAL MATERIAL FOR OUR CHILDREN!
Listed below are several places where many of us already shop. Now your purchases can help our school earn valuable dollars and educational tools for our children. This is open for parents, friends, neighbors, and grandparents…the more people who select our school, the more we can earn!
PRICE CHOPPER– Visit www.pricechopper.com and register your AdvantEdge card for our school (school code is 16115). Previously we were able to purchase foam balls, sidewalk chalk, and paper for our children to use during indoor and outdoor recess. YOU NEED TO RE-REGISTER THIS YEAR. Even if you  previously registered, Price Chopper recently upgraded their system so everyone needs to register again to be counted.
HANNAFORD– for the last several years from early September to early December, for every 4 participating products that you purchase, our school will earn $3 "School Dollars". There are hundreds of participating products. (A full list is available at the Customer Service desk at Hannaford). Just look for the "Hannaford Helps Schools" tags on the shelves, and purchase these items. The "School Dollars" will print out with your coupons. Put them in the slot in display located at the front of the store marked "Cornwall on Hudson Elementary School".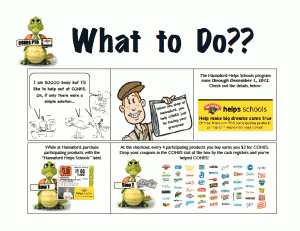 TARGET– Buy at Target and use your Target Visa, and our school will earn 1% of your purchase amount. If you use your Target Visa anywhere else, we will earn ½%. Donations are made to the school every March and September. To register your card, just visit www.target.com, click on Community and then "Take charge of Education fundraising" and click on "find or designate your school". Type in our school code (75835) and then click designate. You will be prompted to enter all of your information there.
BOX TOPS– This program is so easy and was so successful!